After receiving his B.F.A. in film from UCLA, Chicago-born Barry Kite spent the next five years traveling overseas. Returning to the San Francisco Bay area, he wrote and performed his own style of surreal poetry in local coffee houses. Renewing his interest in collage, he combined photographic and hand-coloring techniques to create the foundation of his current work.
The exclusive use and alt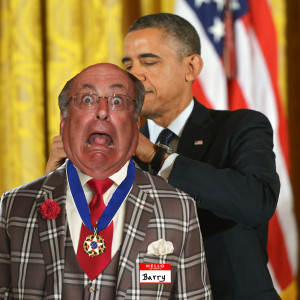 eration of found imagery is a natural extension of found poetry and the basis for what he considers his visual poems.
Barry Kite's style of social and political parody via the "re-positioning" of art historical and contemporary media imagery has won him several art competition awards and placed his work in numerous private and corporate collections.
Under his studio name, Aberrant Art, Barry Kite's work can be found on an extensive line of note cards and greeting cards. Several calendars and three books of his work have been published by Pomegranate Communications, Portland, Oregon.
  ARTIST  STATEMENT
My work is based on found iconographic imagery from painting, photography and popular media initially via discarded books and magazines but of late: the internet. This imagery is deconstructed, then re-composed from different sources as parody with the important blending of and interpretive tension of word (via title) and image. The technique is based on using imagery as language to build context as individual words are combined to create ideas. Uncommon juxtapositions and themes are sought to provoke thought and discussion. The less common, the merrier. A little art literacy is helpful, as many implied narratives draw on historic reactions and interpretations of various employed artists and works from their own era. Prior history with a certain painting or photograph always colors one's interpretation. Being aware of the fact that an artist went blind or crazy or bankrupt (you know who you are) during his productive  period, or that a work was once critically excoriated always adds a certain flavor. My works are narratives.  The challenge is to tell a story without words: using images, colors, composition. Only the words in the title are permitted to assist, or provoke, or mislead the viewer–drawing on that part of the brain dealing with abstraction. My training is in film, from which I have taken the primacy of the single shot.  (Discarding the rest–which would make the film really short.)    
More about Mr. Kite:
 Jennifer_Kinsey_PGY1115 Multimedia Project_Fina…
Chicago Sun-Times December, 2000
"ART THIEF" makes "Aberrant Works"
"Aberrant Artist: The Art of Barry Kite"(the complete documentary)
BARRY KITE EXPLAINS VARIOUS WORKS ON YOU TUBE:  https://www.youtube.com/channel/UC4-5H2UAqViI9lwB4PCPSlw
https://fahrenheitmagazine.com/arte/visuales/5-artistas-collage-analogo-que-necesitas-conocer